First SmileBox, then Adobe Photoshop Elements 10 and now… My Memories Suite! Digital scrapbooking is really fun and exciting to the point that my actual scrapbooking materials remained untouched at home. Since I spend most of my time in front of the computer, focusing on digital scrapbooking is way faster and more convenient than doing the traditional handicrafts. Both are rewarding in so many ways though. So I'd love to them both… I wish I have more than 24 hours a day to channel these creative ideas of mine! Especially that there are so many special occassions to celebrate! Wedding, anniversaries, graduation, name it!
For one, my bestfriend is getting married this April and I've just finalized the design of their wedding invitation. I'm planning to create a wedding scrapbook for her using My Memories Suite as an additional gift. I also want to surprise my parents with some memorabilia since they will be celebrating their 26th wedding anniversary this March 18th. Up next is my youngest sister's graduation. You know how a kid gets excited about that and asks you to take more photos of her? Lol. She's like that and I'll have to use my DSLR again to get gorgeous shots.
Ok, since I don't have the photos yet, I'll just conceptualize my layout. I've been browsing online to get more inspiration. There are lots of digital scrapbooking kits to choose from and this may be confusing at times. With My Memories Suite, you'll never run out of ideas and you'll definitely get the best result!
Until now, I keep on updating the latest album I'm working on because it's just too hard to resist adding embellishment and trying other templates or designs: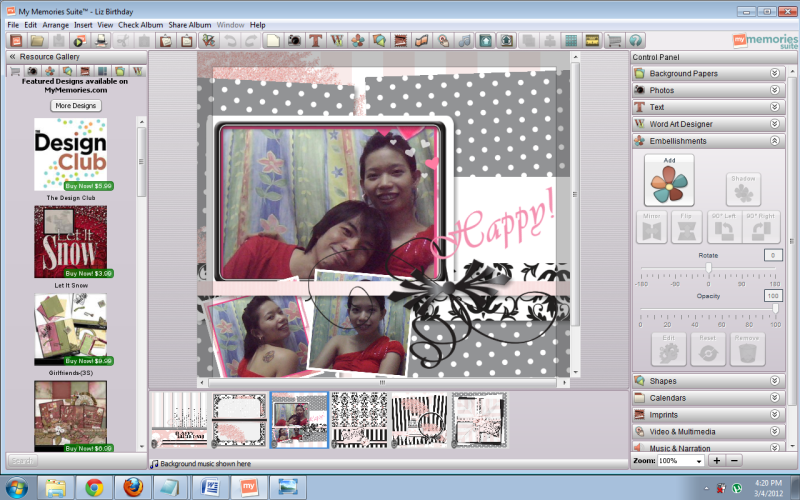 Here are the reasons why I love My Memories Suite (MMS):
1. My Memories Suite digital scrapbooking software is user-friendly. From the download to installation, using of scrapbooking kits and saving your project, everything is easy! There are also tutorial available at MyMemories.com.
2. The pre-designed layout can save you time and effort. All you have to do is choose from the designs available and pick the best photos you would like to be added.
3. MMS allows you to access and use outside content. This means that if you've purchased content from other sites aside from MMS, you can still use it on the project you're working on. It's pretty cool!
4. MMS never runs out of scrapbooking kit promos. There are free kits to get started with and other bestsellers that go on sale from time to time. You can get designs like Sweet Blossom and Funny Easter for as low as $0.99.
5. It is not just about scrapbooks! You can make invitations, photo albums, greeting cards, souvenir templates and so on! There's no limit if you would like to scrap and design. You can even incorporate videos, music and personal narration (voice over) on your projects!
6. The Design Club at MMS offers you more designs and savings! This subscription program gives out 5 exclusive new kits each month. So many benefits to take advantage of!
7. There is an inspiring and helpful community to get in touch with at MMS. The weekly scrap challenge allows you to be more creative and experiment on new designs. It also highlights the winner's creation. They have an interactive blog.
8. MMS is a stable scrapbooking software that does not hog your system resources. You can do digital scrapbooking while browsing online or doing something else on your computer without affecting the speed and overall performance of your PC.
9. You can connect with My Memories through Facebook, Twitter and their blog! There's an exclusinve fan freebie kit! Check out the links at Rafflecopter below.
You can have great creations with MMS, too! Join the giveaway for a chance to win My Memories Suite V3 worth $39.97!

If you're so excited to get My Memories Suite software and scrapbooking kits, you can use this coupon code: STMMMS50855
Enjoy 10% off the retail price! Share it with your friends and other social connections through Facebook, Twitter, Tumblr , anywhere!
This giveaway is open worldwide and will end on March 25, 2012.