One of the most important gears that an equestrian should have is a riding helmet. If you are planning to buy a riding helmet soon, make sure that you keep the following in mind:
Colors: Pick a riding helmet having a light color than a bright one. Riding helmets having a lighter color will keep you cooler than the bright ones.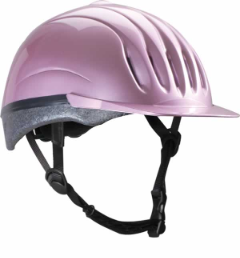 Pick A Horse-Riding Helmet: Refrain from using a used riding helmet and make sure that you are buying one specifically designed for horseback riding rather than motorcycle riding. If for example you recently had a fall and the helmet got damaged, replace it as soon as possible with a new one. Even if the helmet seems to appear fine or undamaged. Remember that these helmets are designed to absorb the shock in cases wherein you fall off your horse.
Pick a Secure Helmet: When choosing riding helmets, choose a helmet which is a closer fit to your head rather than a loose fit. So when you are riding your horse make sure that you secure your helmet on your head because you cannot afford to have it fall while you are riding on a horse. Expect a lot of bump and rigorous motion as you ride on your horse so if the riding helmet is not firmly locked on your head, it will easily fall off and it will lose its effectiveness.
You cannot just pick a random helmet and put it on your head. It does not work that way. You will just be endangering your life by doing so. When riding on horseback, make sure that you secure everything for your own safety.