I should have written my experience about this summer trip right after returning here in Manila but been busy with lots of stuff. Even right now, I believe I don't have the luxury of time to blog about this since I still have some pending online tasks. Nonetheless, I have to update this post once and for all!
It's big thanks to my friends (Ice, Patty, Ed, Mae Ann, Bebe, & Hai) for inviting me to join this Hundred Island escapade.
We booked a trip for April 4, 2012 11:55PM but for some reason, the bus left after 12MN. Talk about the holiday rush and some related issues. By 7AM the next day, we're already at Islandia Hotel, Alaminos City, Pangasinan but we're not yet allowed to check in for we were so early! Lol. Good thing that the manager was there. He accommodated our request of checking in with our baggages only. And to make up for that, we had breakfast at their resto. Tocino and hot coffee for me!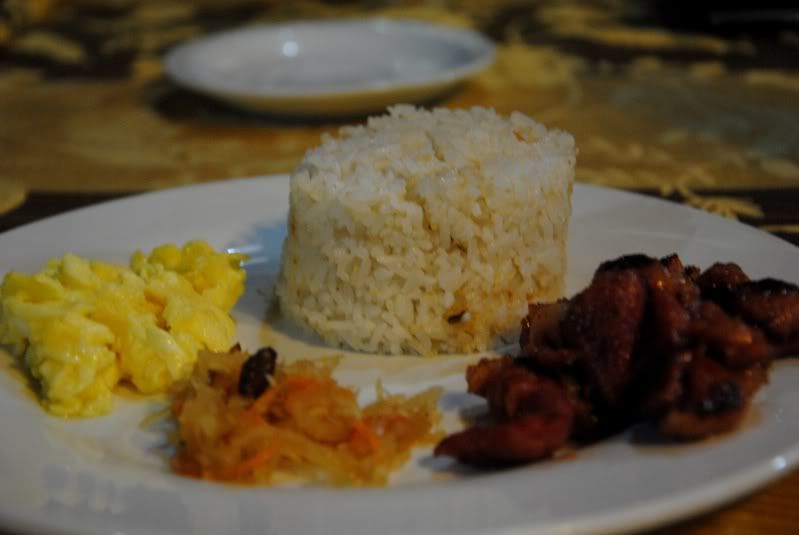 We had a quick city tour after breakfast and we were disappointed to know that the malls weren't going to open despite the long wait. It's Maundy Thursday and the malls are obviously closed. We just headed back to the hotel and formally checked in. Then we spent some time at the swimming pool while enjoying calamares and sweet fried potato.
We had our late lunch/early dinner at Maxine's Rendevous in Lucap. We truly enjoyed the big serving of seafood platter! We were all so full and super happy with what we ate. Haha. Epic!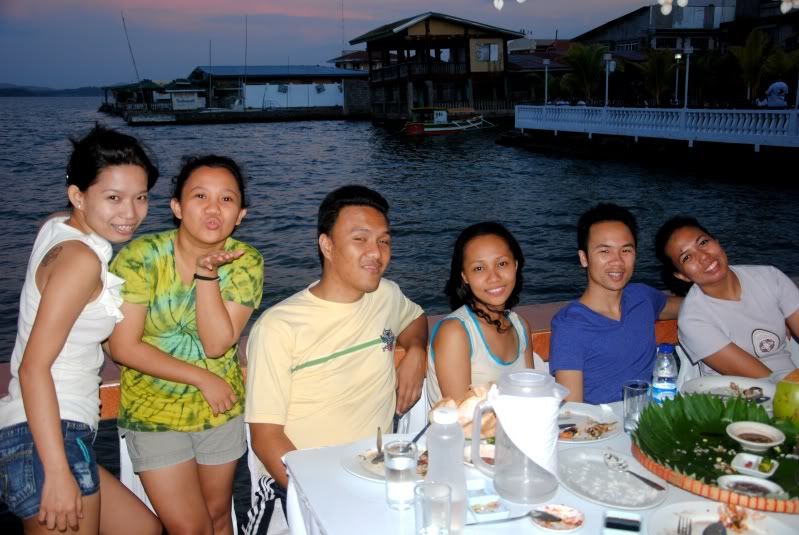 Once we're back to our hotel room, everyone's busy with their own gadgets. And they seem to be having fun with Draw Something!
Friday came and we had to leave early so we were in a hurry for breakfast. Our boating schedule was 7:00 AM but we had it moved to 7:30 AM. There were lots of people at Hundred Islands Tourism office but we skipped the long queue since Mae Ann has booked the boating + packed lunch package for all of us.
It was really scorching hot outside while waiting for our boat!
Once the boatman and his assistant were ready, we rode the boat and off we sail!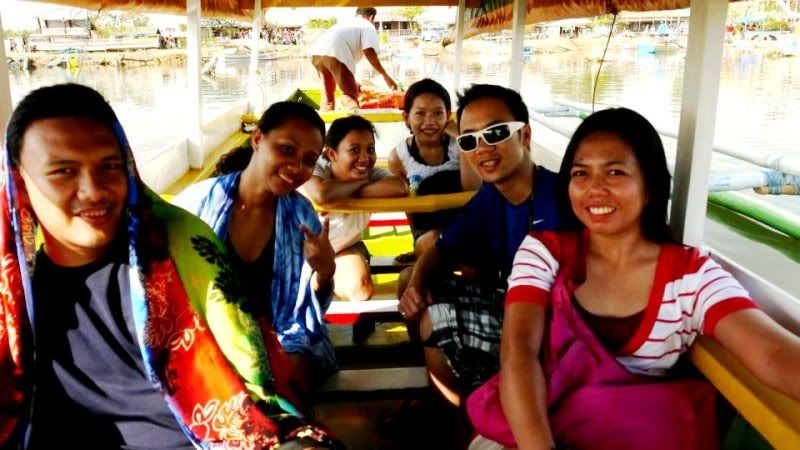 I kept taking pictures of the islands and it was my first real sea adventure. I was actually afraid of boating since I can't swim and I really fear drowning.
Our first stop over was at Governor's Island. We climbed up to see the full view of the island and we're all sweaty and tired by the time we reached the top.
We also explored the man-made cave nearby but we couldn't stay that long inside since it was extremely hot! Too hard to breathe!
We continued with our island hopping and I lost track of the islands we've visited. All I can remember is the first and last islands which are Governor's Island and Martha Island respectively.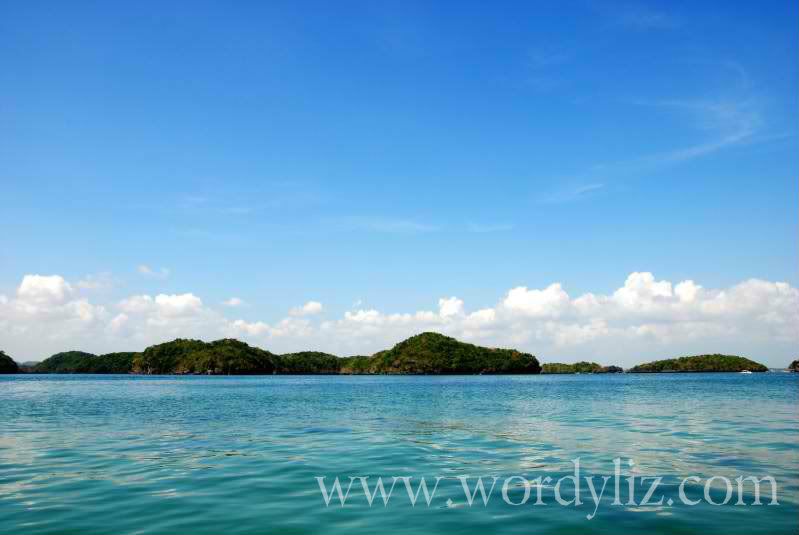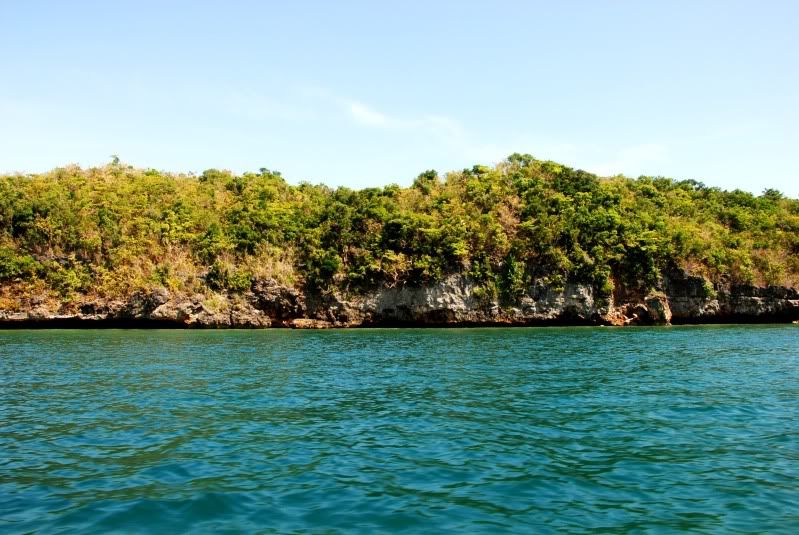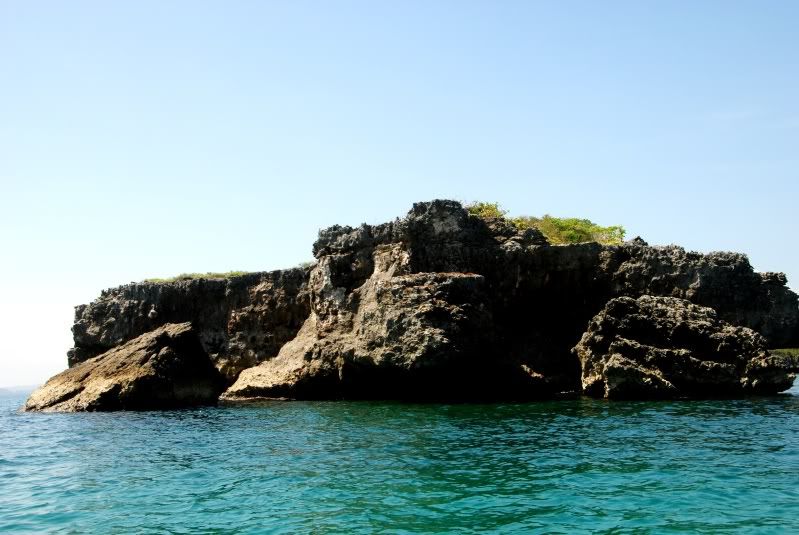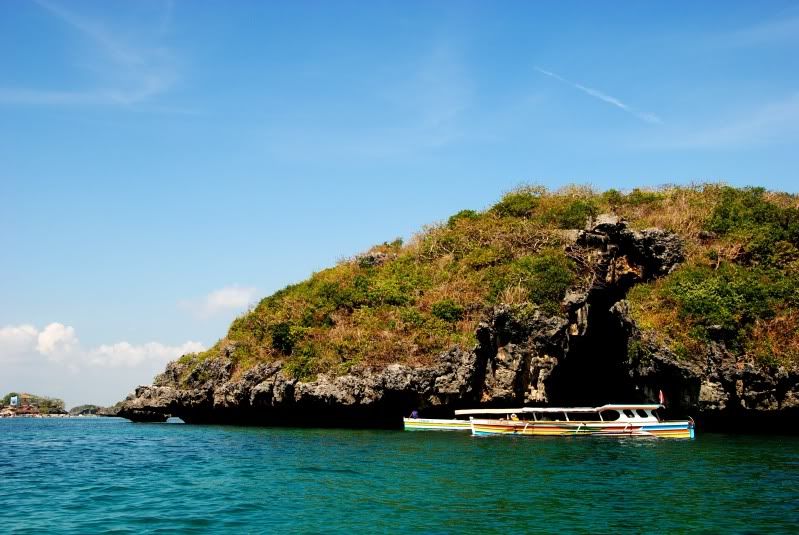 I can't even remember where we had lunch. All I know is that we ate our packed lunch on one of the many islands after finding a perfect shade. We met a funny guy out there who befriended Kuya Hai. He was an interesting guy who offered us fresh seaweeds (& Ice gladly grabbed some) and let Kuya Hai drink some liquor with them. Haha.
While they were so excited to swim and snorkel, I wasn't. So they let me try even if I was too scared and having a hard time. I had a quick good peek of underwater with little fishes and corals. I've got some bruises in return. With the help of life vest, I was able to make my way from the edgy spots of corals to the shore. Whew! Of course I didn't learn swimming but I did overcome my fear. They told me that as long as I'm wearing the lifevest and I keep my arms moving and my feet kicking, I'll get somewhere and I shouldn't be afraid.
On the next island, I decided not to join them in swimming anymore. My legs where too tired and I wanted to take more photos. And I've got good shots of them fooling around:
Can you guess what happened?
We all had a good laugh with what Kuya Hai did. After persuading/apologizing to Ice, they're back to swimming. Mae Ann and I were left behind.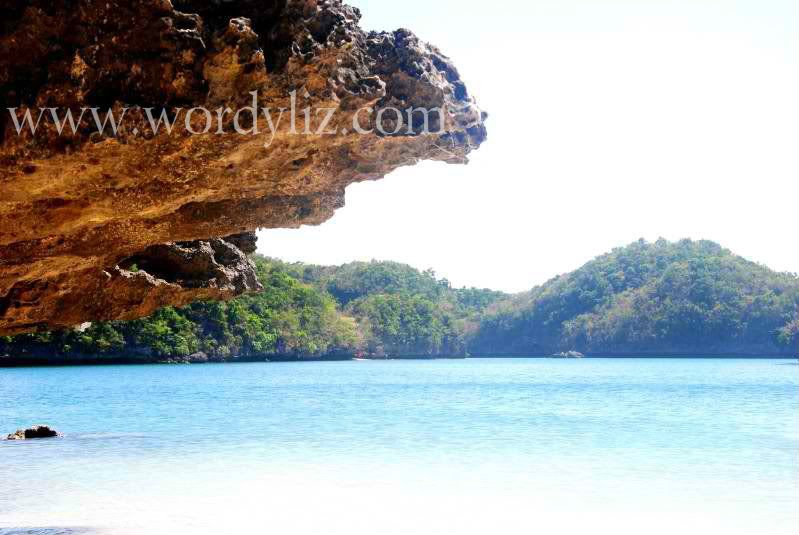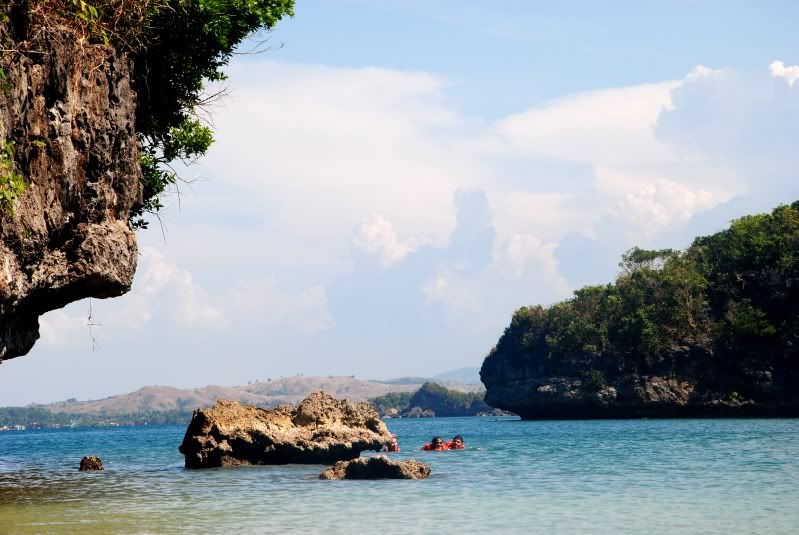 Once they're all back and just lying on the shore, we had a funny conversation. We talked about different things such as the government, marriage, getting pregnant, and some adult stuff. LOL @ Mae Ann.
That was the last stop then we left the Hundred Islands. Some of us went swimming at the pool once we're back at the hotel. We're waiting for our turn in the shower anyway so better play at the pool first.
We had halo halo after shower but I'm quite disappointed with the serving.
And they felt the same thing.

Not picture-worthy but I still tried: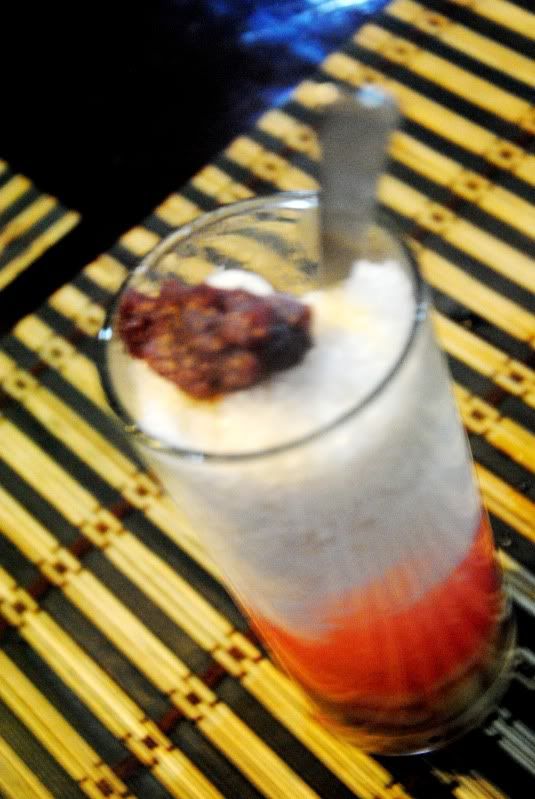 We all took a nap after that and it was dinner time when we woke up. Mae Ann's treat and it's a second round of Maxine's Rendezvous!
This time, we talked about work and more on interview tips. Of course we're having fun while eating and the next thing we know, we're all done!
So goodbye, Maxines! 'til next time! I wish to be back here for a date… and probably with sexier outfit than this one. Hahaha.
We left Alaminos, Pangasinan at 2PM the next day and we're back to Manila by 9PM.
I really enjoyed this trip! Thanks guys!