Lovely flowers on Google Doodle!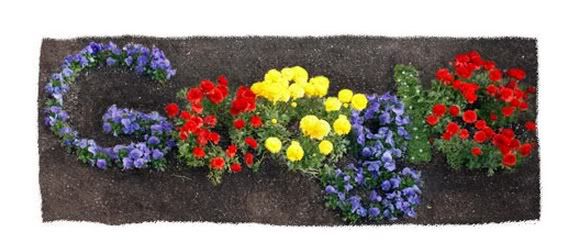 Happy Earth Day everyone!
Earth Day is an annual event that aims to increase worldwide awareness and appreciation of Mother Earth and our natural environment. It is a continuous campaign that invites everyone to protect and preserve Earth's beauty. Earth Day 2012 theme is "Mobilize the Earth".
According to earthday.org:
The Earth Day 2012 campaign is designed to provide people with the opportunity to unite their voices in a call for a sustainable future and direct them toward quantifiable outcomes, using vehicles such as petitions, the Billion Acts of Green; campaign, and events.

Earth Day 2012 will act as a launch pad for growing the environmental movement and will put forth a bold declaration demanding immediate action to secure Renewable Energy for All and a sustainable future for our planet. The movement will be comprised of individuals of every age from all corners of the Earth, and will call upon local, national, and international leaders to put an end to fossil fuel subsidies, embrace renewable energy technology, improve energy efficiency, and make energy universally accessible.
You can also see the the running campaigns of the Earth Day Network within the official page.
As for me, I think I can participate all the year through by practicing the 3R's – Reuse, Reduce, Recycle. That's pretty simple but I believe it can make a big difference. I am so positive that everyone wants to have a better and cleaner place on Earth. It's so nice to see that most establishments support plastic-less operation. Paper bags are now being used as packages so this can lessen the undecomposed trash. Papers are easier to recycle and dispose than plastics.
Let's do our best to protect the Earth!